Comments have been turned off for this page due to the nature of it's contents. If you wish to comment on any of this news, please do so on this talk page.
This is where you will find news on the next book as we find it. This does not necessarily mean as it happens, but it is to keep you informed all the same. This includes name changes, new lifemate information, and publication dates. We do not put fan theories or speculation on this page.
2020 News
September 14
A fan asked about a working title for Book 35, Christine Feehan said she does not have a working title for the next book in the series at this time, but is hoping for one in the next couple of months.[1]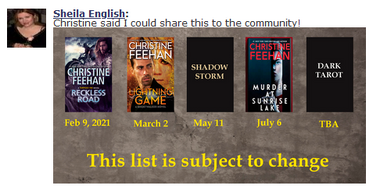 October 16
It was revealed to a fan that the next book in the series will be titled Dark Tarot.[2] This title is subject to change. Later, a list of all new books coming out in 2021 was posted by Christine's friend and associate, with Dark Tarot appearing at the end of the list.
October 27
Christine put on her blog some special news that included a list of books coming out in 2021.
"
I was told that the ebook for Dark Prince, which has the extra 100 pages is on sale for $3.99. I don't know how long that will last, but for those interested you can purchase it HERE (Dark Prince Author's Cut). You can find the audio book for Dark Gold on sale for $3.99 HERE (Dark Gold audiobook).


In case you missed it I've announced several 2021 books already.

Reckless Road - Feb. 9th
Dark Melody Re-issue with new cover April 13
Lightning Game March 2nd
Shadow Storm May 11th
Murder at Sunrise Lake June 29th
Annihilation Road (no release date yet)
Dark Tarot (no release date yet)

We will get some re-issues with new covers but I don't have dates yet - Dark Destiny, Deadly Game (Walmart), [and] Predatory Game (Walmart).

"

–Christine Feehan[3]
Still no release date on Dark Tarot and no news on if Murder at Sunrise Lake will be on it's own like Lair of the Lion, or if it will be a kind of prequel like The Scarletti Curse.
November 13
On the Leopard's Rage FB Live, revealing who won the Facebook contest, Christine revealed a tentative release date.
"
Happy Friday the 13th everyone! It's time to announce the winners of the Leopard's Rage contest! And get updates to what's coming in 2021!
Thank you so much for all of your support with the release of Leopard's Rage. You know how much I appreciate my amazing readers!

The winners of the Leopard's Rage giveaway are-

Kimberly Walker from the online community
Cinnamon Nolan from Facebook

Winners of the signed book and gift certificate for commenting during the Facebook Live event are-
Kim Craig
Amy Nicole Cupples
Jennifer Rodgers
Please PM me with your address.

2021 Releases
Reckless Road Feb. 9
Lightning Game March 2
Shadow Storm May 11
Murder at Sunrise Lake June 28
Dark Tarot Nov. 2

Remember that dates are tentative!

"

–Christine Feehan, Facebook [4]
Due to the length of time, this could change. Any unforeseen circumstances could delay publication, or could aid in allowing Dark Tarot to be published sooner.
December 3
An update to the Dark Series page in the news feed on Christine's site stated:
"
The title of the next Dark Series book is Dark Tarot. We'll get a page up for it closer to the beginning of the year once we have a cover.
"

–Christine Feehan, Dark Series [5]
So in early 2021, we can expect a fleshed out cover for the book and possibly the synopsis. Still no word on who the lifemate pair is. This also does not set the title in stone completely as she has had to change things last minute before, such as with Lara and Nicolas. This does mean that the title has a 90% chance of not changing at this point in time and to expect it to stick. So, it is more like cement we are waiting to dry but still have time to alter before it finally sets. Just as with Dark Curse, it would mean that a great deal of work will have to be done to alter the cover from the title to possibly even the cover model. Still, this is very unlikely to change at this point and will be set in January.

December 12
Though she has not posted anything on Twitter since early June, Christine did update her profile header to include 2021 releases and their covers. This will change once a cover for the book has been made, but it also gives us more evidence saying that the title is accurate and will not change. The date, however, is still subject to change until the final draft has been submitted to the publisher.
December 22
Though there is still no news on who the main characters are, we did get a kind of update. Sad to say, Christine has yet to start writing on Dark Tarot at this time[6], focusing on Murder at Sunrise Lake right now. However, we know that we will get a cover very soon, no later than February. Until then, we may not get any information on who the lifemates are.
2021 News
January 8
Christine did not confirm or deny Xayvion as the books antagonist, but did say that he will be seen again.[7]
January 13
Christine posted on Goodreads a new release schedule for her books, showing that many of the books being released as the end of the year had their dates changed.
"
First let me say that I'm glad 2020 is behind us! And I wish everyone a happy and healthy New Year!

I'm not really one to do a New Year's resolution. I'm resolved to be better every year! But I would love to know if you've made one!

2021 is exciting for me. I just started writing Dark Tarot this week and am so excited about it!

We have a lot going on this year. More new books, some re-issues, special covers and giveaways.

I thought I'd share this schedule with you, but keep in mind that the dates are always subject to change.

Deadly Game - Special Walmart limited edition. Jan 12th
Reckless Road – New Mass Market. Feb. 9th (Player's book. Check out the book trailer!)
Lightning Game - New hardcover. March 2nd. (Rubin's book)
Predatory Game - Special Walmart limited edition cover. March 30th
Murder Game - Special Walmart limited edition cover. April 27th
Shadow Storm - New Mass Market. May 11th. (Emme's books)
Murder at Sunrise Lake - New hardcover. June 29th.
Dark Melody – Re-issue with new cover. July 27th
Street Game - Special Walmart limited edition cover. July 27th
Lightning Game – Mass Market. Sept. 28th
Dark Tarot- New hardcover. Nov. 9th
Dark Destiny - Re-issue with new cover. Nov. 30th
Annihilation Road – Dec. 28th
"

–Christine Feehan[8]
Sadly, it appears fans will have to wait an extra weak for Dark Tarot to arrive, but this date could still change and revert back to it's original Nov. 2 release date.
January 25
Members of Christine's Community on her official site gained access to a page where they could discuss the book. They also gained access to the first look at the cover, which will be updated to a larger image once the pre-order sites have them.[9]
January 27
Christine posted the lifemates that will be appearing in the book on her Community Wall. Sandu Berdardi and Adalasi Ravasio.[10]
February 4
Pages for Kindle versions of the book are up, however, only UK users have the ability to pre-order at this time[11]. Hardback copies will be joining them soon, along with the US Kindle and Hardback links.
February 12
On the Reckless Road live Facebook feed, Christine revealed that she didn't originally like how Dark Tarot was turning out, so she asked for the publication to be pushed back two months to allow her to get it just right.[12]
February 19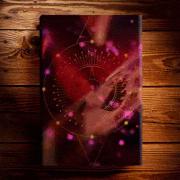 Christine posted a video on her Facebook page announcing Dark Tarot as Sandu and Adalasi's book.[13] However, it has been converted into a gif so that it can be posted here.
February 20
US Amazon links are now up[14], as is the Dark Tarot page on Christine's site.[15]
March 8
No word on Adalasi's purpose in Dark Tarot, but one fan asked if she was the person sent to help the children at the U.S. Stronghold. Christine neither confirmed or denied this, stating, "I can't comment on characters from books not yet published."[16]
March 31
A fan asked about how Adalasi's ability, precognition through the use of Tarot Cards, worked. Assuming the fan meant interpretation of the cards and possible visions she gained from those cards, we can estimate that it is not something that can be answered quickly or in few words without giving too much away. However, Christine in notorious for only releasing teasers about a month before the official release when answering questions on Goodreads. That being said, Christine answered the question fairly quick.
"
All of that will be explained in the book!
"

–Christine Feehan [17]
The way this is worded shows that Christine may have gotten this question a lot or is excited over the book. Either way, we will have to wait until Dark Tarot hits store shelves to get the answer on how her specific brand of precognition works.
May 5
So, we managed to get a tentative title for the book following Dark Tarot that will be coming out in 2022.
"
I have had a lot of questions about upcoming releases. In addition to Shadow Storm coming out this month on May 25th, I have three more brand new releases for 2021: Murder at Sunrise Lake, Dark Tarot, and Annihilation Road.

Shadow Storm (05/25/2021)
Murder at Sunrise Lake (6/29/2021)
Dark Tarot (11/9/2021)
Annihilation Road (12/28/2021)

In 2022 I will have six brand new releases including a new Leopard book! I'm very happy to be continuing the Leopard series. Here are the tentative releases:

Savage Road (1/25/2022)
Phantom Game (3/1/2022)
Shadow Hunter (4/26/2022)
Red on the River (7/5/2022)
Dark Whisper (11/01/2022)
Leopard's Scar (11/29/2022)

**All 2022 release dates are tentative and may change.

"

–Christine Feehan [18]
Normally, we do not get a working title or release date for books so far in advanced. While strange, it is still a welcomed bunch of news. Also, though it only mentions that the dates are subject to change, titles are also subject to change as well. There is about a year and a half of waiting we must do and a lot can happen during that time. And, because we do not know who the lifemates are or if they are even going to be at the compound in the U.S., we cannot place a proper setting nor can we place Dark Whisper under the umbrella of the Brotherhood Arc. It is for these reasons, that it is considered a working title only.
May 16
The official Dark Tarot page on Christine's site to include Christine's notes. They have been added to the Dark Tarot page here as well. They revealed a list of characters that will be returning in the next book. Lucian, Gabriel, Dax & Riley, and Dominic & Solange will be making an appearance, tying up some loose ends for some of the characters.[19] A fan also asked about Gary, and though Christine gave Dark Song as the next book when she meant Dark Tarot, she said that we would also be seeing him in the upcoming book.[20]
May 20
Though it is not confirmed, a fan asked if Luiz would be going to the compound. As always, Christine didn't give anything away.
"
Why do I feel you're a little obsessed with Luiz? LOL

Be patient. You'll learn more about what's going on with him sooner or later. Or sooner.

You know I never think about characters that I'm not writing at the time. His lifemate will be revealed when it's time. I'm not giving away anything! LOL

"

–Christine Feehan [21]
From the wording, Luiz may be appearing in Dark Tarot or Dark Whisper, but without more concrete information, he cannot be placed on either of those book pages at this time.
May 21

A fan asked on the members only page for Dark Tarot when the trailer for the book would be available. The answer they received said that work on the trailer would begin next month (June 2021).[22]
August 13
The trailer was released![23]
August 23
Sheila English, the creative mind behind the Dark Series trailers, responded to a conversation on the Dark Tarot Wall on the Members Only site in regards to the the cards seen in the trailer.
"
I personally chose each card that you see in the trailer. They are there for a reason. I specifically didn't deal any of them in reverse mostly because it's easier to see what they are if they are face-up. The cards are custom for Christine.

No one will be able to read the Goddess card. Sorry. You'll learn more later though.

"

–Sheila English [24]
Unfortunately, she took the response down shortly after, as this may not have been what she felt was the best response or gave too much away.
August 25

Sheila English again responded to the conversation on the Dark Tarot wall with a different response. Other than Christine's name, all other names have been blacked out.
"
I'm hoping ████████ watches it and comments.
I do feel a little better seeing that you and I_b caught at least one of the significant hints in the trailer.
@█████- thank you, █████. I didn't make any of them reverse and Christine agreed with that decision. It better matches up with the visuals you see as they are shown. I keep looking to see if ████████ has stopped by to check it out. She is a tarot card reader.
"

–Sheila English [25]
So, all cards in the trailer are in the upright position for a reason and their meaning can be taken for that reading rather than the reverse.
August 27
The first chapter (titled Chapter Zero THE FOOL) was placed on the members only site.[26] If anyone desires to read it to get a sneak peak before the chapter is added to the Dark Tarot page on the main site, it is free to sign up.
References